Foaid Exhibition took place on August 18th and 19th in Mumbai, presented at the Jio World Convention Centre. Foaid is the festival of architecture and interior designing hosting 1000+ inspirational design talks and connecting 50,000+ audiences worldwide. Nexion's booth became a hub of design excellence during these two exciting days.
Previewing the Riga Collection
We showcased our new collection "Riga," an acronym for Research Inspiration Graphic and Architecture. This collection seamlessly blended the industrial soul of concrete, the captivating allure of tinted colors, the linearity of stripes and the unique effect of handcrafted manipulations in an intensely expressive surface.
Two basic tones of Grey and Beige are declined in gradations that convey and at the same time soften the different nuances of pure concrete. Both tones are conceived to mix perfectly with each other. A range of sizes catered to various design needs: 120x240cm, 80x160cm, 120x120cm, 60x120cm, 60x60cm, and 30x60cm.
With meticulous attention to details, the Riga Collection presented three remarkable textures: Linee, Righe, and Quadri. Thanks to handcrafted structures that amplify its perspective, adding tactile and visual strength. With the Riga Collection, visitors were invited to explore the unparalleled fusion of architectural substance and artistic expression. Engraved decorative elements, featuring vertical, horizontal, and crosscut stripes, brought this collection to life, creating a natural and vibrant full and empty effect.
At Nexion, we believe that each project deserves a material that leaves a lasting impression. Riga stood as a testament to Nexion's commitment to innovation, quality, and timeless elegance.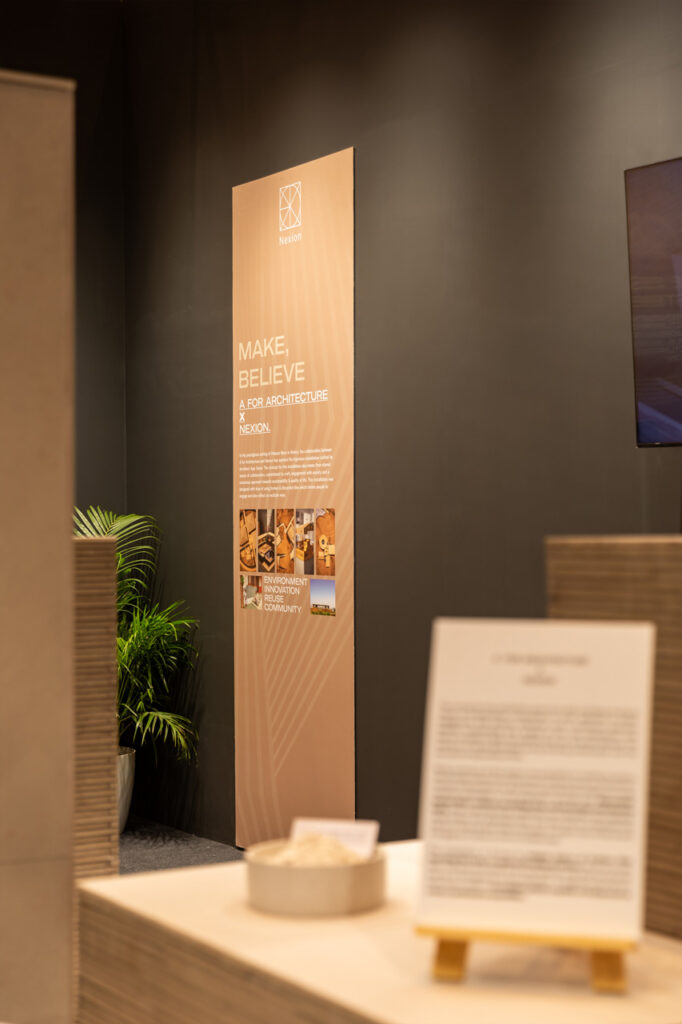 Collaboration with "a for architecture"
Prominent studio 'a for architecture' & Nexion shared values of collaboration, commitment to craft, attention to details, engagement with society and a conscious approach towards sustainability and quality of life. And this led to number of discussions to develop an installation using broken & discarded tiles – an innovative use of waste material from the ceramic industry. The idea was to understand the nature of these broken tiles and design an object that invites people to engage and reflect on this in multiple ways. The installation is formed by simple layers of tiles exposing the body, as against glazed surface which is usually seen. This installation is also currently exhibited at Time Space Existence, Palazzo Mora at Biennale Architecture in Venice , Italy till the end of November.
Nexion is committed towards sustainability and makes conscious efforts to promote innovative use of different waste materials like Alumina Balls, colored chips, residual semi-wet clay which are generated during manufacturing of tiles.
The installation sits like a monolithic object carved out at different levels to form playful surfaces for people to engage with. It is a curated amalgamation of architectural elements like a Plinth, an amphitheater, stairs, terrace and alcove. Along with the intention of creating a pause for the visitors in the busy journey of the exhibition, the object invites visitors to sit, lean against, to isolate by stepping into an alcove or even climb up to view the exhibition from a different perspective. This installation is built by using unglazed tiles which is baked clay without using any finishing layer and this material offers a softer visual character and a unique textural quality.
Thank You for Joining Nexion
Nexion Tiles extends heartfelt gratitude to all those who visited the booth at FOAID 2023. The enthusiasm and appreciation for the "Riga" Collection were truly inspiring. We hope that visitors left the event with fresh ideas and a renewed passion for design.
Stay connected with Nexion on the website and social media channels for more updates and insights.