Marble Gallery and Stone Gallery: the stars of the last edition of Cersaie
The International Exhibition of Ceramic Tile and Bathroom Furnishings, also known as Cersaie, is an exhibition with an international scope that showcases the ingenuity and industriousness, beauty, culture, art and sustainability of a cutting-edge and constantly evolving sector.
Nexion is a protagonist of this progress with its work and products. That is why, as Nexion, we decided to attend the event and presented our brand new 'formula', along with Marble Gallery and Stone Gallery, our latest collections, through a showcase.
Nexion's formula: a spirit that balances evolution, research, art, tradition and decades of experience
The latest developments in the 'Nexion Formula' are the two new Marble Gallery and Stone Gallery collections. Since the creative process behind Nexion product design is consistent with the one of the artists, we decided to display our 7 new sintered marbles and 4 sintered stones in a round art installation, starting with base material and arriving at the final result, showing the whole process to our guests, so that they could appreciate how we work to create innovative products with a very high visual and technical impact. That is what we define as 'the art of surface innovation'.
As it is for the artists, nature is a primordial source of inspiration in our work, but we do not copy from it: by designing and developing sintered stone and marble slabs of the highest standard, we create unique designs able to stimulate the architects and designers in their most ambitious projects. Thanks to the excellence of our work ecosystem, we manage to reinterpret, alter, combine and modify designs, textures and colors to create totally innovative products with new high-tech features and in line with contemporary architectural trends.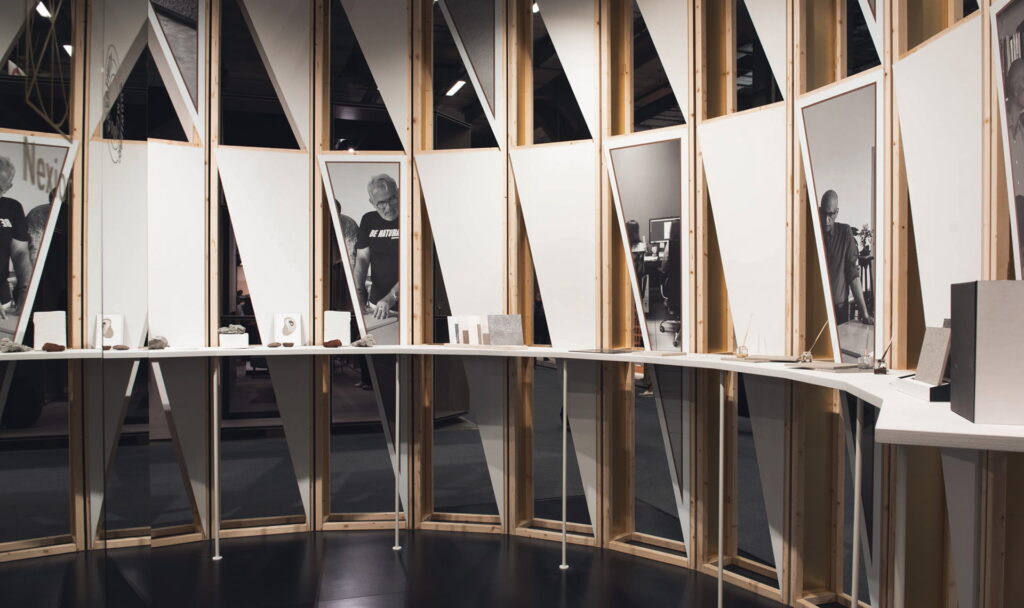 Marble Gallery: our new precious mirror-like sintered marbles
A distinctive feature of these sintered marbles is their unprecedented refractive properties. Indeed, sintered marble combines the design of natural marble with a unique ability to reflect light. In contrast to ceramics, this material allows an almost perfect reflection, without distortion, of any object. This high reflectance is a quality that can be visibly appreciated in the great brilliance, depth and figurative fidelity of the reflected image. In addition, Nexion is an innovator in surfaces, offering the widest range of surface finishes (up to eight on the same design), which won it the prestigious Red Dot Award in 2020 for product innovation.
High-technology innovation meets authenticity: discover Stone Gallery
The new designs in the Stone Gallery collection reinterpret the natural structure of the inspirational material, succeeding in giving the surfaces the same material uniqueness and texture, giving an extraordinary feeling of authenticity. Nexion's sintered stones are characterized by extremely high performance, as well as restoring all the flavor of natural surfaces by combining exclusivity, elegance and a surprising chromatic fidelity, rendered by the very high range of mixed and balanced shades and tints.